Perhaps you are considering Cornerstone Community Church for your wedding. Because we want every couple to experience a memorable and sacred wedding service, we have provided our beliefs about marriage and our wedding policy below:
What does Cornerstone believe about marriage?
We believe marriage is an institution designed by God where a man and a woman make vows before Him to live out their lives together. We also believe sexual abstinence and not living together before marriage is part of God's design for each couple.
Who may use the facility?
Since our purpose is to establish Christian marriages in the context of a loving community, weddings are reserved only for individuals who are committed followers of Jesus Christ, who have been regularly attending Cornerstone for at least six months prior to application, or are immediate family members of a regular attender at Cornerstone. Exceptions to this policy are reviewed on a case-by-case basis by the pastors and elders.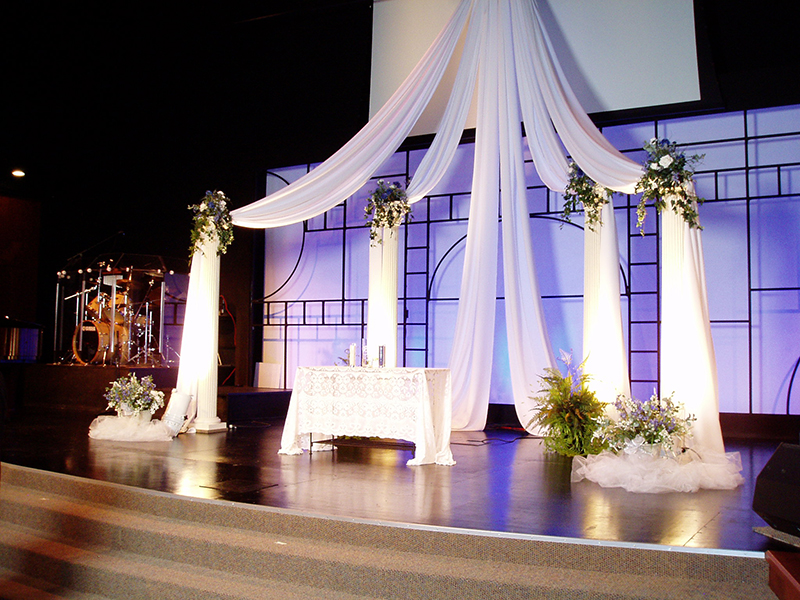 How do we arrange a wedding date?
Plan as early as possible, so that the use of the church facilities can be arranged without conflict. Weddings may be scheduled about a year in advance. Due to staff and facility commitments, weddings may not be possible on or around certain holidays and weddings cannot be held after 4 pm on Saturday in order to allow ample time to get the facilities ready for worship services on Sunday. A Wedding Application Packet, which includes a Wedding Application form, is available through the church office to initiate this process.
Once you have completed and returned the Wedding Application form, one of our pastors will contact you to schedule a meeting. During this relaxed meeting you will be asked to share your personal testimony and have additional questions regarding premarital counseling or other wedding items answered.
Do you have premarital counseling?
Our pastors require each couple to attend premarital counseling sessions. For this reason, you'll want to make plans at least six months before your wedding.
May we use a pastor who is not from Cornerstone?
Approval of anyone other than a Cornerstone pastor must be obtained before you proceed with definite wedding plans.
Will a wedding coordinator assist us?
Our wedding coordinator will help you with Cornerstone wedding resources, rehearsal staging, and your ceremony. You must use one of our coordinators, who will provide access to the building, as well as helpful information and service. Your coordinator will work closely with the pastoral staff member involved in your wedding and will contact you after the wedding has been put on the church calendar.
Who will run the audio and lighting equipment?
An audio technician and a lighting technician from the Cornerstone Tech Team will operate the equipment to ensure maximum performance.
Additional Information and Wedding Fees
There are general guidelines in using the facility relative to decorations, candles, etc. These guidelines and an outline of the services provided by the required wedding coordinator, audio and lighting technicians, and janitor are included in the Wedding Information Packet. Fees for these service positions and the facility use are also included in this packet. There is no facility use fee for Cornerstone members.