Israel Trip Informational Meeting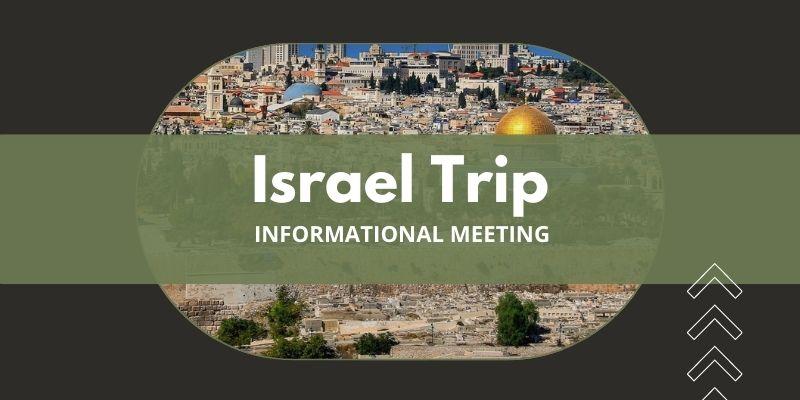 August 29
It has been said that a trip to the Holy Land enhances the experience of reading our Bible in much the same way as viewing a picture in color that was previously only seen in black and white. Next spring, March 4–13, 2023, Pastor Andy will be joining Pastor Jeff Hinds from Highland Community Church in Wausau to lead a discipleship journey to the Promised Land. Come with us to Israel and give "color" to your Bible study time. Pastors Andy and Jeff have designed this tour to offer the utmost in both inspirational and historical Biblical education as we tour the steps of Christ and other Biblical figures.
Our Israeli guide will be Doron Heiliger. (Much in demand for his services, Doron is licensed by the Israeli Minister of Tourism and has worked as a guide for over thirty years. Doron has served as a group tour guide for: Hal Lindsey, David Hocking, Liberty University, David Jeremiah and Jack Hayford.)
INCLUDED IN OUR PRICE:
ROUND TRIP AIRFARE from Chicago to/from Tel Aviv. (*please see EXCEPTIONS AND EXCLUSIONS #1 below)
FULL BUFFET BREAKFAST every morning.
FULL DINNER every evening
TIPS AND GRATUITIES (*please see EXCEPTIONS AND EXCLUSIONS #2 below)
AIRPORT TRANSFERS while in Israel.
TRANSPORTATION IN ISRAEL (using modern, luxury class, air-conditioned tourist buses.)
7 DAYS SIGHTSEEING - ADMISSION TO ALL SITES
LICENSED ISRAELI GUIDE
KIBBUTZ HOTELS [Nof Ginosar on the shores of the Sea of Galilee & the Ramat Rachel, Jerusalem (*please see EXCEPTIONS AND EXCLUSIONS #3 below)]
PRICE PER PERSON: $3998.00
Exceptions and Exclusions:
​#1 Other airports available; a price difference could apply. #2 The Sea of Galilee boat staff; the Garden Tomb; our guide and driver will appreciate an optional love offering. #3 Price based upon double occupancy.
Click here to view the full itinerary.
Participants are not required to be Cornerstone attenders or members. Please sign up here to indicate your interest. An informational meeting will be held on Monday, August 29th at 6:30 p.m. at Cornerstone Church.
Already know you want to participate? Fill out the following application.